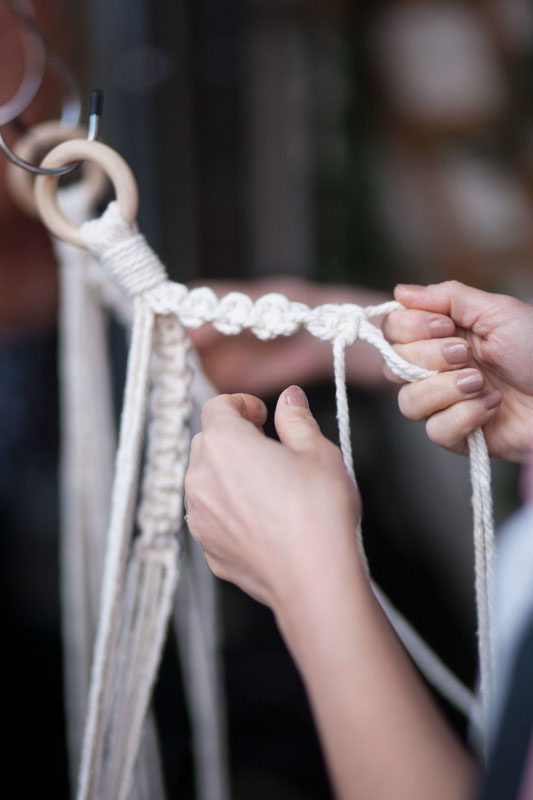 Macrame Plant Holder
Tutor: Isabella Strambio
Dates Available:
Morning course: 10am - 11.30am
Come and learn how to make a macrame plant hanger for your home with Isabella Strambio, experienced Macrame artist and tutor.
This is a morning course ideal for beginners. Isabella will teach you, step by step, all the knots you will need to make a gorgeous, bohemian inspired, plant holder to take home. Not only will this be a beautiful addition to any home, it would also make the perfect, handmade gift.
Isabella works entirely with recycled cotton when creating her macrame pieces so they are sustainable, as well as beautiful.
Materials Fee:
There is a £5 materials fee due to the tutor, in cash, at the start of the course. For this, all materials are provided to include a wooden ring, 100% recycled cotton strings and a terracotta pot.
About the tutor:
We are delighted that Isabella is joining out team of tutors for 2020. She has been featured in the Sunday Telegraph, Kirstie's Handmade Christmas on Chanel 4 and she regularly write tutorials for magazines including Mollie Makes, Koel, In the Moment & Hobbycraft. She has been a demonstrator and tutor at The Handmade Festival and has recently been selected as a finalist in the 2019 Etsy Design Awards.
Isabella is also leading an afternoon course on the same day: Macrame Wall Hanging